By Penny Jayne
I had another 20cm x 20cm box canvas and used Tonic Nuvo Mica Mist Antique Gold to spray through my Stamperia Moon Butterfly Stencil. I didn't attach it properly so didn't get a crisp finish but still liked the effect it gave so continued.
Next I die cut elements from the Tattered Lace Nightshade die set. I cut these from 300gsm black card from Crafters Companion. These I shaped and attached a few foam pads to some elements and stuck them on with some Tonic Studios PVA glue.
I cast the Zuri Designs Inc Mercurial Beast using base A1 mixed with some A1 red pigment. When it had dried I decided I didn't use quite enough pigment so sprayed it with some Red Deco Art Media Mister. Then to highlight the dragons gorgeous details a bit more I used some Pebeo King Gold Gilding Wax. I attached the cast to the canvas with Amsterdam Extra Heavy Gel Medium.
To finish it off I brushed Pebeo King Gold and Pebeo Antique Gold Gilding Waxes all around the edges/sides of the canvas.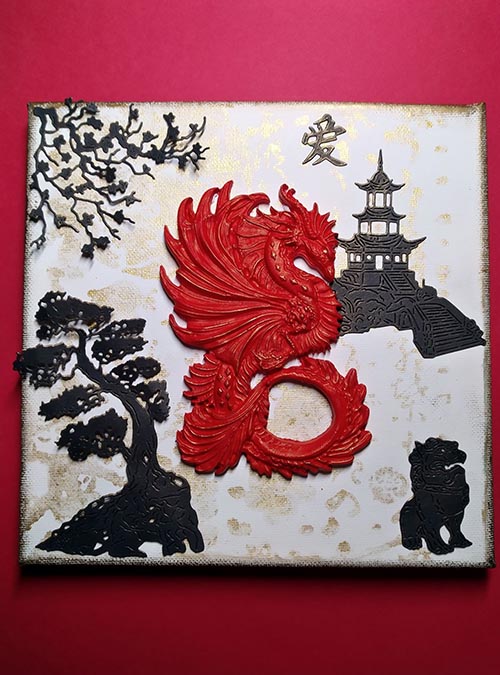 Ingredients:
A1 base product A1LP01 Liquid & Powder
A1 Red Pigment
20cm x 20cm box canvas
Zuri Designs Inc, Mercurial Beast
Stamperia, Moon Butterfly Stencil KSG445
Tattered Lace, Nightshade die set
Deco Art, Media Mister Red
Tonic Studios, PVA Glue
Crafters Companion, 300gsm black card
Pebeo, King Gold Gilding wax
Pebeo, Antique Gold Gilding Wax
Amsterdam, Extra Heavy Gel Medium
Tonic Nuvo, Mica Mist Antique Gold