Love Nest Heart by Penny Jayne:
I used an MDF heart for the base of this project. I covered it with some silver card that I had embossed using a Crafters Companion Dotty Heart embossing folder designed by Leonie Pujol. I cut and shaped my favorite Crafters Companion blue glitter card using The Butterfly Blush die set from Tonic Studios.
I then cast The Love Nest mould from Zuri Designs Inc with the beautiful A1 creatives WhiteStone. As I hadn't cleaned my mould properly from the last time, I felt I had to paint  the cast, so I used some watered down Viva Decor Haematite Maya Gold. I stuck it all together using Extra Heavy Gel Medium from Amsterdam. I then finished the piece with a silver/grey satin ribbon to hang it up.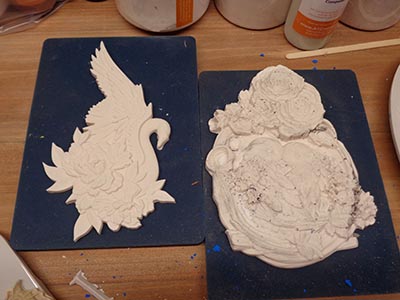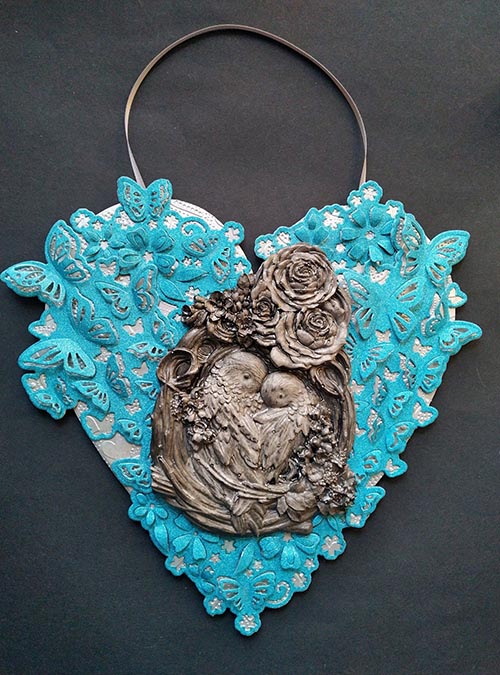 Ingredients:
A1 Creatives, WhiteStone
MDF Heart
Zuri Designs Inc, Love Nest mould
Crafters Companion,
Glitter card Crafters
Companion,
Leonie Pujol Dotty Heart Embossing folderTonic
Studios,
Dimensions Pretty Pop Ups Butterfly Blush die setViva
Decor, Maya Gold Haematite paint
Amsterdam, Extra Heavy Gel MediumSilver/grey satin ribbon