By Penny Harris:
For this project I used some Hearty Soft Air-dry clay in the beautiful Zuri Designs Inc Peacock Splendor mould. I was careful where I put it as I knew I only needed the neck and some of the body. I shaped the end of the trunk and mouth slightly just to make it a bit more elephanty 😁.
I knew I had the perfect stencil for this project that I bought years ago from Crafters Companion.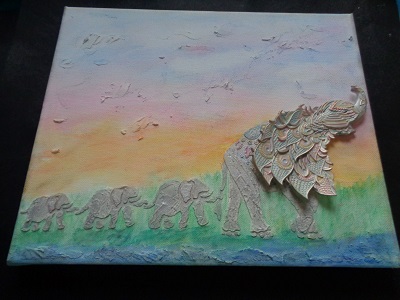 I used a canvas, approximate size 12″ x 10″ or 30cm x 25cm. I mixed some A1 base liquid and powder and some ATP Powder to use on the elephant family stencil. I had a bit extra so used it to add more texture in a few places.
To colour the project I used Crafters Companion Spectrum Noir Aqua Blend Pencils. I coloured straight on to the canvas with the pencils then sprayed it with water and used a water brush to blend it all. I also used the pencils to colour the big elephant's clay head only this time.
I made a pallet on a piece of paper with the pencils then used a water bush to pick up the pigment and paint with it.
When dry I stuck the head on with Amsterdam Extra Heavy Gel Medium. Then used some Pebeo silver and king Gold  waxes to highlight.
Ingredients:
A1 LP01 Liquid & A1 LP01 Powder
A1 ATP Powder
Zuri Designs INC Peacock Splendor Mould
Hearty Soft Air-dry Clay
Crafters Companion Elephant Family Stencil
Crafters Companion Spectrum Noir Aqua Blend Watercolour Pencils
Pebeo Silver & King Gold Waxes
Amsterdam Extra Heavy Gel Medium
Canvas 30cm x 25cm/12″ x 10″