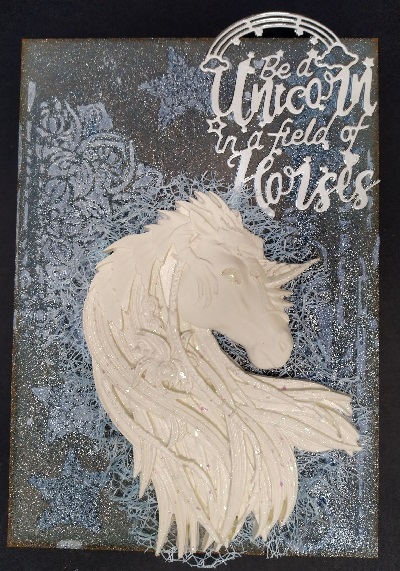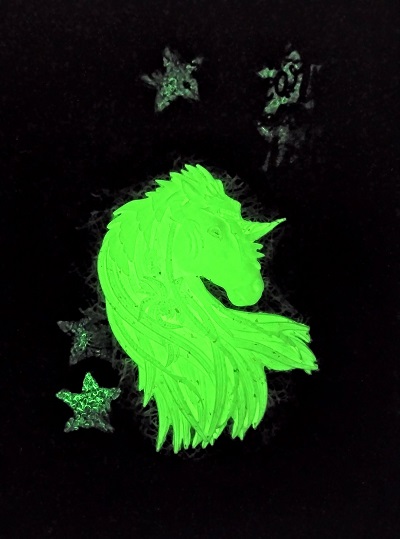 By Penny Harris:
I started this project while doing one of my previous ones as I don't like wasting products!
I had a lot of Pentart Fiber Paste left on my Aall & Create Rota Vitae stencil. So I grabbed this A5 MDF substrate to use it up. Also while doing my other piece I decanted too much Viva Decor Maya Stardust Night Blue so decided to see how it would look on unprimed MDF. I quite liked how it worked!
I cut some blue net-like material to place behind my centerpiece and stuck it on with Amsterdam Extra Heavy Gel Medium. I made my centerpiece with my favourite A1 Creatives Glow and the gorgeous Zuri Designs Inc Lexus the Elven Horse. I then used some That's Crafty 3D Holographic Gel Medium on the mane and a few other areas to make it sparkle. I cut out my Tattered Lace sentiment die twice. The front one is from an ice blue card and I used some silver crackle mirror card for the back piece to give it a slightly highlighted/drop shadow effect. Again all attached using Amsterdam Extra Heavy Gel Medium.
I know it is a horse, not a Unicorn but I feel he is pretending to be a unicorn so felt the sentiment was right 😁.
I thought I had finished, then as night came I decided it needed some more GID areas so mixed up some Culture Hustle Stuart Semple Original Lit powder in some 13 Arts Acrylic Gel Medium and used it on the stars!
Ingredients:
A1 Creatives Glow
Zuri Designs Inc Lexus the Elven Horse mould
Aall & Create Rota Vitae stencil Designed by Olga Heldwein
Pentart Fiber Paste
Viva Decor Maya Stardust Night Blue
That's Crafty 3D Holographic Gel Medium
Tattered Lace sentiment die
Culture Hustle Stuart Semple Original Lit Powder
13Arts Acrylic Gel Medium
Amsterdam Extra Heavy Gel Medium
Some blue net material
Ice blue card and silver crackle mirror card
A5 MDF Board